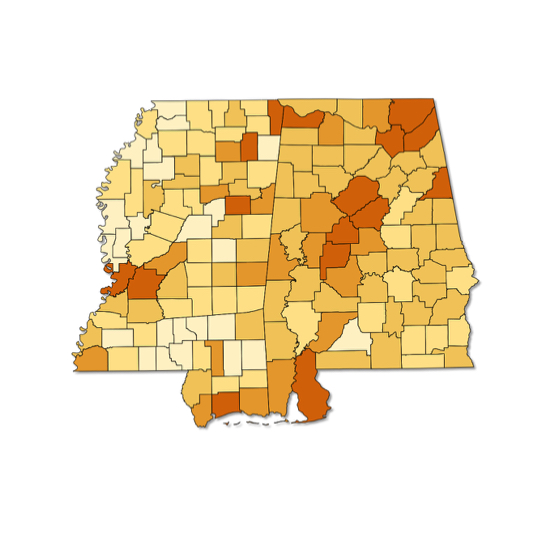 The states of Alabama and Mississippi are home to over 150 species of butterflies and skippers. While some counties are well sampled, as the map below illustrates there are still many counties that need more study (especially in Mississippi). Over the past three years, we have been able to document over 800 new county records and one new state record from Alabama. Over the next few years, we hope to improve the knowledge of distribution of butterflies within Mississippi.
It is the goal of these pages to introduce you to the abundance and diversity of the butterfly fauna of Alabama & Mississippi, through photographs of adults, eggs, caterpillars, chrysalids, and host plants. Because of our passion for identification, we also provide as many field markings as possible to aid in identification.
The species known to occur in AL/MS are listed below. The Alabama list is based upon the work of Vitaly Charny and the Alabama Butterfly Atlas; the Mississippi list is taken directly from the BAMONA (Butterflies and Moths of North America) website. If we have photos for a particular species, then there will be a link from its common name to the species page. Each species page will contain photos and a distribution map indicating the counties within Alabama and Mississippi where the butterfly has been documented as occurring. Our preference is to use photographs taken in AL/MS, but occasionally photos will be from outside the two states. As we obtain more photographs, we will add them here.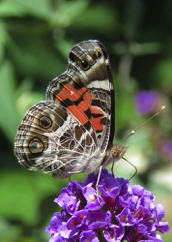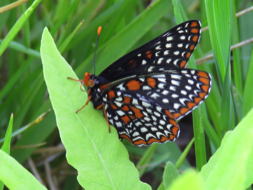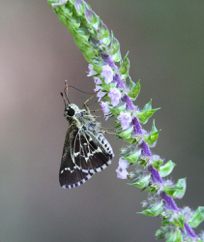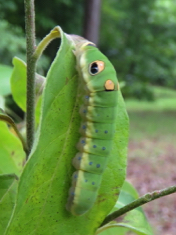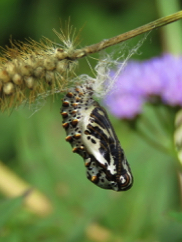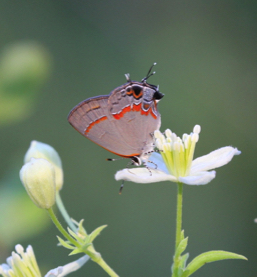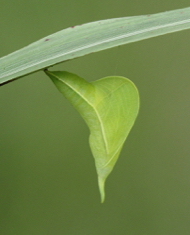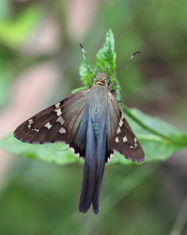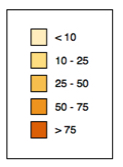 Skippers
Spread-wing Skippers
Dorantes Longtail (no photograph available)
Mottled Duskywing (no photograph available)
Two-Barred Flasher (no photograph available)
Grass Skippers
Arogos Skipper (no photograph available)
Baracoa Skipper (no photograph available)
Bay Skipper (no photograph available)
Brazilian Skipper (no photograph available)
Carolina Roadside-Skipper (no photograph available)
Dotted Skipper (no photograph available)
Duke's Skipper (no photograph available)
Hobomok Skipper (no photograph available)
Neamathla Skipper (no photograph available)
Giant-Skippers
Swallowtails
Whites and Sulphurs
Whites
Great Southern White (no photograph available)
Sulphurs
Clouded Sulphur (no photograph available)
Large Orange Sulphur (no photograph available)
Orange-barred Sulphur (no photograph available)
Yellow Angled-Sulphur (no photograph available)
Gossamer-wing Butterflies
Harvesters
Coppers
Bronze Copper (no photograph available)
Hairstreaks
Atala (no photograph available)
Dusky-blue Groundstreak (no photograph available)
Blues
Eastern Pygmy-Blue (no photograph available)
Silvery Blue (no photograph available)
Metalmarks
Swamp Metalmark (no photograph available)
Brush-footed Butterflies
Snouts
Milkweed Butterflies
Longwings
Admirals
Emperors
True Brushfoots
Gorgone Checkerspot (no photograph available)
Malachite (no photograph available)
Northern Crescent (no photograph available)
Satyrs and Wood-Nymphs